Blog

How Slatwalls Will Rule Retail in 2018
A slatwall is a universal sight in all good retail stores, either mounted to every wall of the store or affixed to shelving units throughout the premises. In fact, the odds are good that the last thing you bought from a retail store -no matter which one- was found on a slatwall, and you didn't realise it!

A slatwall panel is a wall fixture which looks like a stretch of wall itself, and is equipped with a set of horizontal wooden slats, which have grooves between them. These grooves act to hold a shelf or display hook in place, and because of the continuous horizontal slot, the shelves and hooks can be moved around however necessary to get the best result. This means that a slatwall can be effortlessly reconfigured or rearranged to suit your current needs, making them perfect for the changeable, fast-paced world of retail.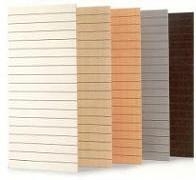 The primary advantage of slatwalls to a store isn't the impressive adaptability, however – it's the use of space. Slatwalls are designed to fit to your own walls, avoiding the need for bulky shelving units, and transforming useless wall space into valuable retail real estate – meaning that every inch of wall space in your store can be used to advertise and sell goods, while simultaneously increasing the amount of floor space for customers to move around and browse!
This increased floor space isn't just for customer elbow-room, of course – it also increases the number of customers who are able to comfortably occupy your store, raising the overall maximum profitability of the business by providing space for more customers at any one time.
These financial advantages are especially important in uncertain times for retail, and 2018 is no exception. With global retail under constant pressure from cheap, convenient online options, rising cost of living, falling disposable income and other fluctuating variables, it's important to make your business as efficient as possible and take advantage of every opportunity to improve productivity. With the world's markets in such turmoil, the survival of the business may depend on it.
To top it off, a slatwall isn't a big investment – relatively inexpensive, they are very hard-wearing and can be adapted to suit your store as it changes over time. Easy to maintain, with wipe-clean surfaces and tough construction, a slatwall is a long-lasting upgrade to your store's layout and capabilities, with advantages that will be felt for years to come.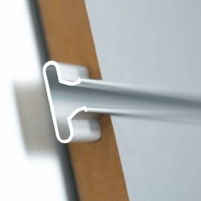 If you are interested in how slatwall panels could revolutionise your business, or you would simply like to speak to an advisor about how slatwalls might help your store to adapt to likely changes in the retail world now that 2018 is here, then you can get in touch with UK Shopfittings by calling 01704 565341 or 0800 2707615 today! The experts on the other end of the line will be able to provide advice and information about the changing face of retail and how your store can be furnished and equipped to best meet it.
Alternatively, if you're ready to place an order or request a quotation based on your store's needs, you can use the phone numbers listed above to contact the sales team at UK Shopfittings and place your order!